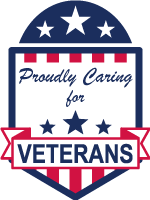 Are you a veteran and do you receive care at the VA? Then talk to your primary care provider about getting acupuncture through the VA! We accept patients in the Veterans Affairs Community Care Network (VA CCN) program.
What you need to know to get acupuncture through the VA:
Talk to your VA medical care provider. He or she must submit a request for acupuncture. You may do that through My HealtheVet. Your provider often will want you come in for an office visit first. The request gets forward through the non-VA Care office after it receives all necessary approvals for referral to a community care provider. Some factors in that decision include whether there is an in-house provider for that service, if the patient can be seen within 30 days, and how far the patient must travel to get to the provider. You may request our office for your acupuncture therapy.
Optum Health is the current administrator for the community care program. They handle the authorizations for payments on the patient's behalf. With the current process, the VA will contact us to let us know they have an authorization for acupuncture for you. We will then contact you to schedule your first appointment. Before the appointment, you can access the necessary paperwork on our website or we can send it to you if you call us with your email address or your mailing address. Filling out the paperwork ahead of the appointment and bringing it with you will save time at the first appointment.
Acupuncture has help veterans with many of the issues they face everyday, including dealing with chronic pain, PTSD, anxiety, sleep disturbances, depression and so much more. Our veterans find that acupuncture helps them in ways that traditional methods have not been able to help. We can work with you to set up a treatment plan custom designed to your needs and situation.